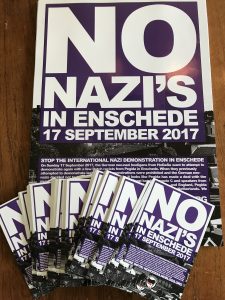 De posters en flyers voor de protesten tegen de internationale nazi-demonstratie op 17 september in Enschede zijn binnen. Help ze mee verspreiden in Enschede of in je eigen stad of dorp. Je kan ze ophangen bij winkels, sociale centra, of gewoon op straat.
Wil je helpen? Stuur dan een mail naar no_hogesa (at) riseup.net en laat weten hoeveel posters en flyers je wilt ontvangen en vermeld duidelijk je adres. Posters en flyers drukken kost geld dus een donatie is altijd welkom maar hoeft natuurlijk niet. Een donatie kan je storten op rekeningnummer: NL57 INGB 0009 4742 45 ten name van AFA Nederland ovv Enschede.
Samen kunnen we de nazi's stoppen! Stop de internationale nazi-demonstratie in Enschede!